Staying in Krakow made easy
Hostels in Krakow
Hostels have been growing in popularity for decades, thanks to low prices, friendly atmosphere and the unique opportunity to socialise with other tourists. Our selection of hostels lives up to the expectations of the modern-day backpacker.
Check our hostels: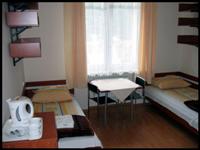 Student Hotel "Bydgoska" Krakow, Bydgoska street 19LOCATION:
Bydgoska is located close to the city centre, about 2 km from the Main Market Square, in the student district
cheap accommodation in hotel standard
Green Hostel & Apartments Krakow, Krakowska street 1LOCATION:
Green Hostel is located in Kazimierz district, about 1 km from the Main Market Square
Best location, rooms with individual bathrooms.